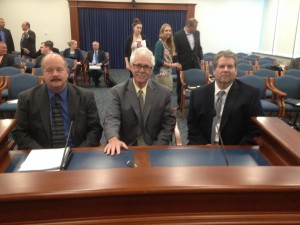 MASIP President Dale White, member Don Grant and Senator Booher testify before the Senate Regulatory Reform Committee on MASIP's requested legislation Senate Bills 186 through Senate Bill 192.
Currently, the rules affecting the Private Security Business industry under PA-330 are outdated and seriously flawed with respect to public safety, public trust, and the duties that security guards and security guard agencies are employed to perform.
Senate Bills 186 through 192 will address and correct many issues that are outdated.
There will be mandatory minimum training for an individual to be employed by a security guard agency to provide security services for others. Such training needs to be allowed to be provided "in-house" by the guard agency and needs to be standardized and documented.
An individual working as a security guard can carry a firearm, any commercially available baton, a chemical spray device, a taser, or restraint devise with no specialized training. Firearms and less than lethal alternatives are essential for security personnel. Not only for needed protection for themselves and others but functioning as an effective deterrent. Qualified trainers stand ready to train security personnel in the proper use of restraint devices, and batons.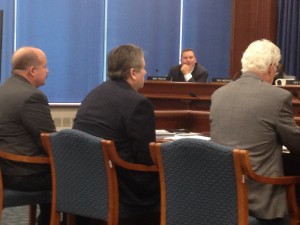 Currently, the uniform requirement for a security guard is over- restrictive and needs to be broadened for the guard to function in the various settings where they perform their duties. If the attire does not deceive the public into thinking that the guard is a police officer the proper uniform should be at the discretion of the licensee and his or her client within limits such as the standard enforcement looking uniform currently required, or a professional blazer, or a button-down polo shirt for concerts and outdoor events. Patch shape and color and embroidered or metal badges. The proper use of the uniform, patches, and badges is essential for the safety of the security officer and the public because "officer's presence" is known in the "use of force continuum" as the lowest level of force that is used. The professional appearance of a security officer as a person who is in a position of authority is more likely to get needed compliance from an individual who would otherwise become combative.
During special events, security guard agencies need to hire personnel who will not function in any capacity as a security provider. Often 200 to 300 individuals need to be hired to work no more than 90 days and will take event tickets, direct traffic in a parking lot or usher people to seats.
This industry is currently plagued by persons without a guard or guard agency license offering services from security guard service to security consulting to training for deployment similar to a temp service.
Any form of security service offered for a fee implies a level of competence and in the interest of public trust needs to be held to the same security guard/guard agency license.
Security Legislation:
Senate Bill 186 through Senate Bill 192